Varför kan komponentval - ge huvudvärk ?
Increased demands on components for Medtech Having knowledge of regulations, norms and, not least, future demands on performance, function and safety can save you both time and money in the development of Medtech products.
The new mandatory EU regulation 2017/745 focusing on increased patient safety means that new components such as cables, connectors and cable assemblies must be developed continuously and not least adapted to the customer's specific application. Swiss LEMO has extensive experience in designing customized solutions for innovative start-ups as well as high-tech companies around the world. The development and manufacture of medical devices is regulated by several standards, and there will be no easing of the requirements for these manufacturers occurring. The new EU regulation 2017/745 becomes mandatory in May 2020. The regulation places higher demands on the companies' internal quality management and risk management systems, but also on the end products. For example, products consisting of substances or combinations of substances introduced into human bodies or applied onto the skin will be moved to a higher risk class than Class I and manufacturers of this type of component will have to use a notified body for CE approval. It is also worth noting that that the CE marking is done at unit level. Thus, no CE marking of electromechanical components such as connectors is needed.
Choosing your components
Designers of medical devices must also take into account additional requirements regarding patient safety when selecting components. The risk of infection, not least the problem of multi-resistant bacteria, that are becoming increasingly difficult to combat place increasingly demanding methods for cleaning and disinfecting. This in turn means that there is a higher demand on the cabling and the choice of connector which must withstand tougher cleaning methods. In addition, medical technology products often take a long time to develop and are one the market for a long time. This means that the choice of components also must take into consideration future needs, and that requirements that come into force before approval and launch might expose the product to a risk of being stopped. If a component of your choice no longer meets the requirements a costly and time-consuming redesign will become necessary.
Swiss LEMO
Many associates the Swiss connector and cabling company LEMO with its reliable and robust matt silver circular connectors in metal. These are of the push-pull type and come fitted with a self-latching mechanism with spring heels that automatically locks when the connector is connected and dislodges when the plug is pulled out. The latching technique was invented and patented in 1957 by the company's founder, Léon Mouttet, and in the same year the company's first connector was introduced in the market. The connectors can be adapted to a wide range of applications within market segments such as test and measurement, medical technology, aerospace and automotive industry, communication, research, nuclear energy, industry, audio and video and military technology. The market leading company LEMO is today heavily niched towards developing customised solutions of connectors in metal or plastic, and now also cables and custom cable assemblies. LEMO has its head office and manufacturing of connectors in Switzerland while the company's customised BioCompatic cables are developed and manufactured at the company's subsidiary Northwire in the USA. In addition, the company has facilities for cable manufacturing in a number of places around the world.
A new series of connectors for medical technology
The latest addition to LEMO's connector families is a series of plastic connectors named REDEL SP. These round connectors are primarily intended for medical devices but are also suitable for other test and measurement products. The series has also been given a new patented self-latching mechanism with locking heels on the inside of the housing itself. "There are continuously updated requirements that affect the material from which the connectors are manufactured. Take, for example, the healthcare problem with resistant bacteria. They impose demands for change and even sometimes tougher cleaning methods, which in turn requires new compositions of, among other things, plastic material," says Mikael Andersson, sales manager at LEMO Nordic AB.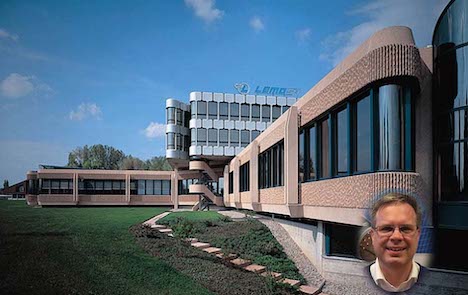 Today the connectors fulfil the enclosure classes IP 50 or IP 64 and work is currently in progress to raise the IP rating for the company's REDEL SP series, since these devices have a new locking design. Here LEMO is investing in order to up to IP 66/67. In addition to new the plastic material, REDEL SP has also been given reinforced electrical insulation to meet the new level of electrostatic discharge (ESD) of 15 kV (part of IEC60601-1). The connectors in LEMOs REDEL P & SP series are available in more than 5,000 different designs with diameters ranging between Ø14 to Ø21 mm and 2 to 34 contact pins/sleeves. In order to ease the handling and safety when connecting equipment, LEMO has also provided its connectors with the option of encoding through guide tracks and different colours.
LED indication
Another step to simplify operation when users connect their equipment, is the series of innovative Halo LED-equipped connectors LEMO launched. So far, these products are only available with LEMO's metal devices. These were originally launched for the company's B-series, but are now also available with the waterproof IP68-rated T-series.

"The light indicator gives our connectors a new level of functionality. Often, customers want to provide their products with some form of light indication, which means that one has to drill another hole in the housing. Therefore, we have developed a new product where light indicators are integrated with the chassis-mounted connector," says Mikael Andersson. The connectors are equipped with RGB LEDs which can indicate different states with a very large number of different colour shades and combinations. They are available in three different versions - like a discreet luminous point and a narrow or wider ring. It is also possible to use the technology together with smart electronics, to set limits for the number of times a sensor or an instrument has been used and to indicate when it is time for replacement or recalibration - the possibilities are endless.
Customised cables and cable assemblies
In 2014, LEMO acquired North American Northwire, a company that specialises in developing customised cables, spiral cables and entire cable assemblies in the fields of medical technology, space/aviation, defence, energy and industry. Together with LEMO, the companies have developed three alternatives to medical silicone cables named BioCompatic 1, 2 and 3 and are available in a wide variety of different designs, for example as a spiral cable.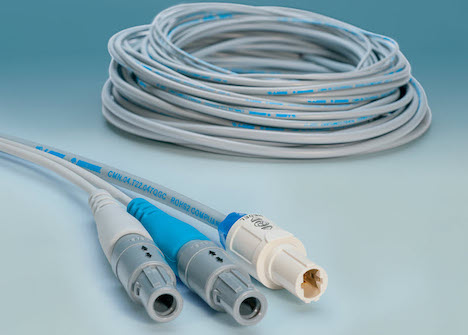 BioCompatic cable and connector from LEMO-s REDEL SP series.
"The BioCompatic cable has, among other things, the advantage over ordinary silicone cables that they are tougher, more resistant to mechanical abrasion, does not crack as easily in case of damage to the outer jacket and can especially be produced in smaller volumes, saving both time and money for many who are developing equipment in smaller quantities, says Mikael Andersson. Northwire's BioCompatic cables are manufactured in a relatively simple process and can therefore often be obtained in lengths as short as 400 meters. Delivery times are also shorter - for some cable types down to 6-8 weeks, which is about half the delivery time that applies to many variants of medical silicone cables on the market today.
About LEMO
LEMO is the market leader in the design and manufacture of custom connection and cable solutions. LEMO's high quality Push-Pull connectors are found in a variety of challenging application environments including medical, industrial control, test & measurement, military, audio-video/broadcast and telecommunications. LEMO has been designing precision connectors for seven decades. LEMO and its affiliated subsidiaries REDEL, NORTHWIRE and COELVER currently serve more than 100,000 customers in over 80 countries around the world. LEMO Nordic AB, with offices and warehouses in Spånga outside Stockholm, is owned by LEMO SA Switzerland and offers local support and sales to Swedish, Finnish and Baltic companies.