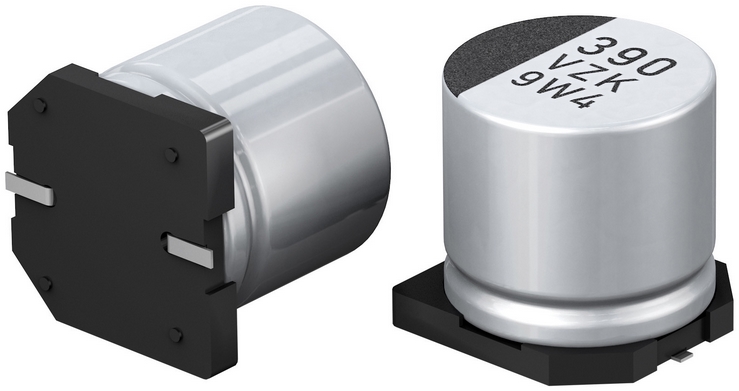 Hybrid capacitor market trend (SMD-versions)
Leading hybrid capacitor manufacturer are continuously developing their product portfolio according to customer requirements, especially driven by the automotive market. The parts have to be smaller with high capacitance, high ripple current capability and high temperature withstanding. Not to forget about long lifetime in addition. Here are the latest news from PANASONIC Industry, RUBYCON and SUN.
Ultra miniaturization by PANASONIC Industry
PANASONIC Industry Europe presents a new hybrid capacitor of the ZKU series (125°C/4.000h), which currently offers the highest capacitance per case size on the market. For applications in which beside high ripple current capability, a certain capacitance value is also decisive, space can be saved by smaller dimensions or by reducing the number of components required. Compared to PANASONIC's already miniaturized ZK series, ZKU offers approximately 20% more capacity with the same case size and voltage, which is currently market leading. With their consistently high ripple current capability and AEC-Q200 certification, these capacitors are ideal for demanding automotive and industrial applications. In addition, a compact design of your application is possible. Focus-applications are e.g. DC-DC converter, battery management systems, power supplies, motor control, robotics and the like. Adoption of ZKU series in EPS applications decreases the PCB area by 25% when compared to other hybrid capacitors on the market. It is currently available with a rated voltage of 25V and 35V and can also be supplied in a vibration resistant version up to 30G. In dimensions 10x10.2mm e.g. 560µF can be achieved at 25V. The guaranteed lifetime is 4.000 hours at 125°C and full ripple current load.
Capacitance range: 39µF to 560µF Rated ripple current: 750 ~ 2.800mArms@100kHz/125°C Dimensions: 5x5.8mm to 10x10.2mm
Beside introducing new series to the market PANASONIC Industry also develops existing series further to be able to provide more capacitance per case size with keeping voltage and ripple current. New values in this context are following: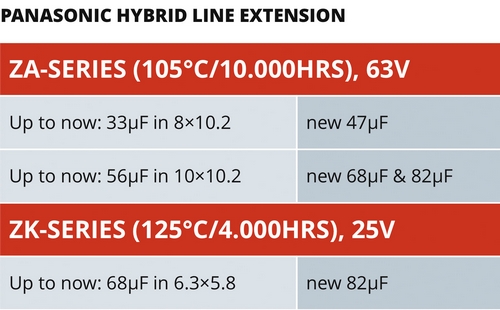 High rated ripple current from SUN
The Japanese capacitor manufacturer SUN recently expanded their product portfolio of polymer-hybrid capacitors by versions with particularly high ripple current capability in compact dimensions. These are AEC-Q200 certified products with a nominal temperature range of up to 125°C (HVPY) or 135°C (HVTY) and a guaranteed lifetime of 4.000hrs at full ripple current load. With 4.000mArms at 100kHz/125°C/4.000hrs in case size 10x10.5mm SUN is currently market leader with HVPY-series. In 10x12.5mm 4.700mA are achieved. HVTY-series specifies 2.500mArms at 100kHz/135°C in dimensions 10x10.5mm (10x12.5mm 2.750mA), which places it at the forefront in comparison with competition. Both series are available with 25V and 35V, the capacitance range is from 270µF to 470µF. HVPX-series, which we introduced one year ago, has been extended by the voltage range 50V to 80V.
Capacitance range: 22µF to 150µF Rated ripple current: 2.000 ~ 3.500mArms@100kHz/125°C Guaranteed lifetime: 4.000h Dimensions: 8x10.5mm ~ 10x12.5mm
High ripple current at high temperature from RUBYCON
RUBYCON launched the new PSV series (135°C, 3.000hrs) which has 1.5 times higher ripple current capability than today's PHV series with a very stable ESR over temperature. RUBYCON offers a special hybrid capacitor technology based on the polymer materials combined with a proprietary functional gel (ARSII™). This structure has a big advantage to preserve a relative stable ESR over temperature because this new mixture does not solidify at low temperature (unlike most electrolytic caps) and has a low rate of evaporation at high temperature. From such low and stable ESR, the rated ripple current will be higher compared to standard technology. PSV series is one of the leading products to show advantages of RUBYCON's hybrid technology. This capacitor fits perfectly for the automotive powertrain applications or motor controls where the space is a limiting factor. In this case, PSV series will make a difference offering smaller size and reducing the number of capacitors inside the application.
Voltage range: 25V to 63V Capacitance range: 33µF to 330µF Rated ripple current: 1.650 to 3.000mArms@100kHz/135°C Dimensions: 8x10.5mm to 10x10.5mm
For further questions:
Magnus Gustavsson
About CODICO
CODICO stands for design-in-distribution of high-quality electronic components. Its wide range of products includes active and passive components and interconnect systems. The company operates from its Austrian headquarters in Perchtoldsdorf, south of Vienna as an independent, privately-owned enterprise and maintains several sales offices in Germany, Denmark, Italy, France, the Czech Republic, Slovenia, and the UK, also cooperating with partner companies in Central and Eastern Europe. Backed by a high level of technical expertise, CODICO places a key focus on design-in services. CODICO's distinguishing feature consists in the technical support it provides from the development phase to the final product, and its commitment to selling exclusively high-quality products. www.codico.com