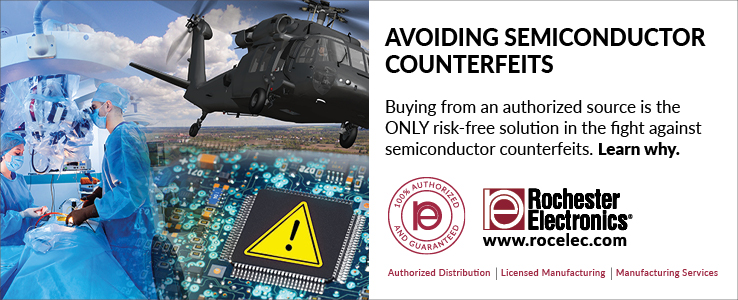 Uncovering the Truth about Semiconductor Counterfeiting
Buying from an authorised source is the ONLY risk-free solutions in the fight against semiconductor counterfeits.
Rochester Electronics discusses why AUTHORIZATION is the ultimate tool in the fight against Counterfeit. In times of supply shortage, or where component obsolescence limits availability, counterfeit devices are more prevalent. Counterfeiters have moved beyond incorrect logos and packages with no die inside caught by the simplistic visual inspection testing used by those following AS6081. The Counterfeiters now have more sophisticated operations than in the past. Customers whose normal supply chain proves insufficient may assume unauthorized or gray market sources are the only solution; and that "Testing" can eliminate risks. Nothing could be further from the truth.
Semiconductor Counterfeits include:
• Non-Functional or scrap product which is re-marked as good and re-sold. • Functional yet sub-standard product purchased by the counterfeiter remarked and re-sold as full grade product at an increased price. • Recycled and recovered components sold as new. The process of removing parts from boards and altering logos can cause long-term damage not seen upon first power-up of a counterfeit part. Chemical residues from the cleaning process can slowly enter and contaminate the device, causing bond-pad or bond-wire failures in-service. Heat and mechanical damage (from PCB part removal) can result in long-term reliability issues. Exposure to excessive humidity, water, and salt air atmosphere is often routine in used part recovery. This process can produce an authentic used product that has questionable reliability. Authenticity does not ensure Reliability. Identifiable surplus stock and traceability provide no guarantee regarding the storage conditions encountered during the components complete shelf-life.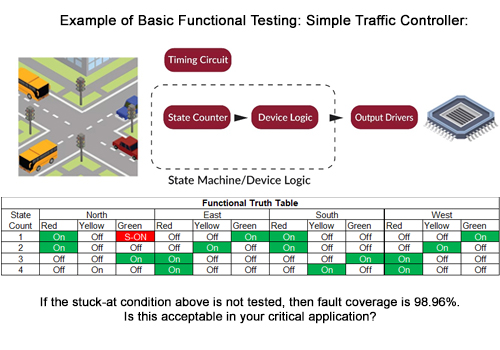 Customers may incorrectly assume "Testing" provides a 100% genuine guarantee. At its most basic, 3rd party testing comprises one or some of the following: •
Paperwork and Visual Inspection:
Unlikely to identify professional counterfeit devices. Traceability documents and certificates are also regularly forged to support the overall deception. •
X-Ray Inspection:
Unlikely to identify fraudulently up-screened, well-marked recovered and re-used, or recovered failed-test devices. •
Basic Continuity or Functional Testing:
Will not identify the fraudulently upscreened or well-marked recovered and re-used devices •
Full Functional Testing:
The datasheet only provides a subset of the characteristics tested by the Original-Chip-Manufacturer (OCM). Test houses do not have the original manufacturers test program. Effective test requires high fault coverage and accurate fault modeling done by the OCM. AS6171 calls out far greater testing for parts bought through Independent Distribution and yet is rarely fully followed.
(The following table referencing standards shows why the only risk-free solution is fully authorized)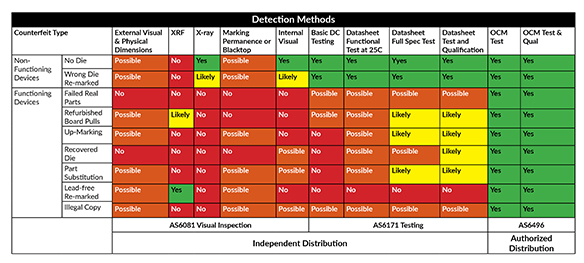 AUTHORIZED After-Market Suppliers and Manufacturers, such as
Rochester Electronics
, provide the only 100% guaranteed and counterfeit-free source for active-shortage and obsolete semiconductors. Finished devices stored and supplied by authorized sources are guaranteed to come only from the OCM and to have been stored in-line with the OCM's recommendations. These products offer a 100% conformance guarantee. As a licensed manufacturer,
Rochester
is also able to offer ongoing production of obsolete devices. Built from known-good-die, these products are tested using the OCM test procedures and, in many cases, the original test equipment – Guaranteed 100% compliant to the original specification.
Learn more