Charging Application
Our world is undergoing a transformation towards an electrified transport society. This requires higher efforts and demands on development, politics and urban planning. The reduction of the CO2 footprint plays a crucial role for that. The question is how, where and how fast to charge. CODICO, the Austrian design-in distributor, offers solutions with its Know-How.
Overview charging station technology
The charging infrastructure is one of the most important factors in the implementation of the new mobility solution. It is about the question, how do people charge, where do people charge and how fast does it have to be. The following structures have developed into the current status. Main Harbor Charging: this describes the charging stations that are located in the home area. In most cases, there are different versions. On the one hand, this is limited by the house connection power or the possibility of charging. At a standard socket (220V/10A) a power of 2.2kW is available. With the so-called wallboxes it is possible to charge up to a power of 22kW, a common value for home applications is 11kW, as the typical connection power is around 14kW. Destination charging: this describes charging stations located in front of shopping centers, for example. Here, there is a higher connection capacity of the power grid and therefore a higher charging capacity is available. This amounts up to 50kW. The limiting factor here is the on-board charger (OBC), which is defined according to the manufacturer and is not subject to any European standard. Range extension charging: this describes charging stations located along highways that can provide a lot of energy very quickly. The charging power is well over 50kW and is limited to about 320kW. Here is no limitation from the OBC, because it is bypassed by a bypass line and the power is directly available to the battery management system (BMS).
Charging stations in detail
Let's now take a closer look at what the OBC, bypass line and the rest are all about. With the three different forms of charging, there is always talk of AC charging and DC charging. This is a bit confusing at first, because according to general knowledge, batteries can only be charged with direct current. Figure 1 roughly shows the difference between AC and DC charging. With AC Charging it is meant that the alternating current coming from the grid is fed into the OBC. As described in Main Harbor Charging with a power of 2.2- 22kW depending on the house connection power. The OBC transforms the AC power into a DC power. Very simply put, the AC charging station does nothing else, that is to release the power and establish communication with the OBC. Which is also reflected in the unit cost. Between the AC chargers and the DC chargers is a price difference of about a factor of 10. DC charging stations are designed according to the topology in Figure 2. In the first step, so-called fast transients are diverted, which can be caused by lightning, for example. This is achieved by using varistors and/or gas discharge tubes (GDT). In the second step, filter elements are used to reduce or suppress the interference from the mains to the device on the one hand, and to minimize the interference from the device to the mains on the other hand. This is realized by CMC, and X/Y capacitors. Next, the voltage is converted from AC to DC by power supply technology. The DC Link capacitor block is the key element in charging station applications, it ensures constant powerflow and is responsible for battery longevity. The capacitor block provides a low impedance jerk current path for the switching currents. In summary, these capacitors are essential for battery life and EMC radiation performance. The DC voltage is then transformed back into AC current for transmission via a galvanic isolation path. These transformers are customer-specific transformers, which are specially manufactured to offer the customer the best possible result. The AC voltage is then transformed back to DC, generating voltages of up to 1000V at a current of approximately 200A. In the penultimate step, the DC voltage is smoothed by means of an output filter. In the last step, the current flow is measured by means of a shunt.
Trends in charging stations:
Bi-directional power flow capability
High peak efficiency
High power density
The possibility of Grid to Vehicle (GTV) or Vehicle to Grid (VTG) represents a fantasy for new business opportunities, especially in Asia. GTV and VTG mean nothing else than that the car is available as electricity storage and vice versa. For this reason, more and more products are being developed that can have bidirectional power flow. For this, however, an appropriate hardware architecture must be selected. Our specialists will be happy to assist you in this case as well. High efficiency is of high importance for a broad area application, in order not to load the power grids unnecessarily. It is quite conceivable that in the near future charging stations can also be used as a grid balancing mechanism and this will be possible especially with bidirectional power flow. High power densities are an important issue for many customers, and we see they want to produce smaller circuit boards by using even faster components. And they increasingly use GaN (Gallium Nitride) technology or SiC (Silicon Carbide) technology for semiconductors. With its design-in oriented approach, CODICO offers valuable support in the implementation of e-mobility projects. For more information, please visit
www.codico.com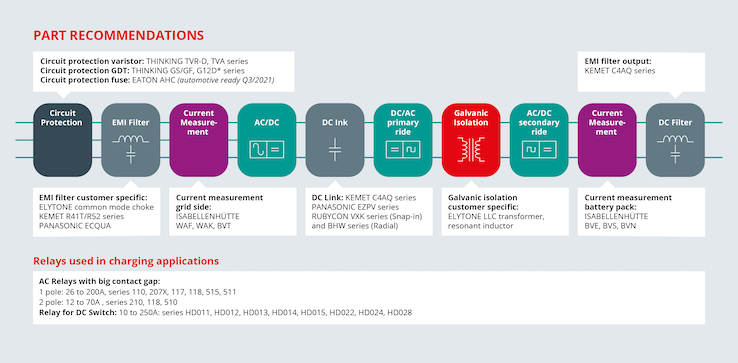 Author: Rainer Scalick
rainer.scalick@codico.com
+43 1 86305 366 Local Contact: Mauritz Scherdin
mauritz.scherdin@codico.com
+46 76 139 48 10 About CODICO CODICO stands for a design-in distribution of high-quality electronic components. The broad product portfolio includes active and passive components as well as connection technology products. The company operates from its Austrian headquarters in Perchtoldsdorf in the south of Vienna as an independent, privately owned company and counts numerous sales offices in Germany, Italy, France, the Czech Republic, Slovenia, Scandinavia, the UK and other partner companies in Central and Eastern Europe among its team. Thanks to its high level of technical expertise, CODICO focuses on the design-in sector. Technical support from the development phase to the final product as well as the distribution of exclusively high-quality products distinguish CODICO.